Shipping Information and Policies
Changes to and Cancellation of Orders
All order cancellations or modifications must be requested before 6 AM PST on the following day that an order was placed. A 15% cancellation charge will apply to cancellations after that time frame. WigSalon.com begins processing orders quickly in order to ship as soon as possible. Once your order's status has been set to "shipped" we can no longer make any changes.
Why do we charge a cancellation fee?
WigSalon.com does not stock the many choices available on our website. Many items are special ordered from the manufacturer to fulfill your order. Our wig manufacturers do not allow us to return these items back to them, so WigSalon.com absorbs the full cost of the wig in the event of a cancellation. To minimize these costs and maintain our standard of excellent prices, we charge a 15% cancellation fee.
Packages that are refused will also be subject to a 15% restocking fee and any applicable shipping charges. Undeliverable packages will be subject to reshipping charges.
Shipping Information
(If you need your order by a specific date call us at: 1-800-262-8437 or email us at: [email protected])
First Class Shipping $6.95 Promotional Free Shipping will ship this method when offered. It is currently taking about 10 business days for delivery with this option, please plan ahead.
Sign up to receive our newsletter for discounts and promotional Free Shipping when available.
WigSalon.com offers these shipping options:
US Air Priority Mail shipping takes approximately 2–7 business days: $8.95
Direct Drop Ship (Rushed) takes 2–4 business days: $29.95*
USPS Express Mail $29.95
Canada Air shipping takes 5–14 business days: cost will be displayed at check out
International Priority shipping takes 8–14 business days: cost will be displayed at check out
International Express shipping takes 6–9 business days: cost will be displayed at check out
UPS on request. Email us: [email protected]
*UPS Direct Drop price will vary depending on how far you live from the specific vendor(s). Priced per vendor. See Map.​ Your WigSalon rep will confirm a direct-ship price with you through email. [email protected].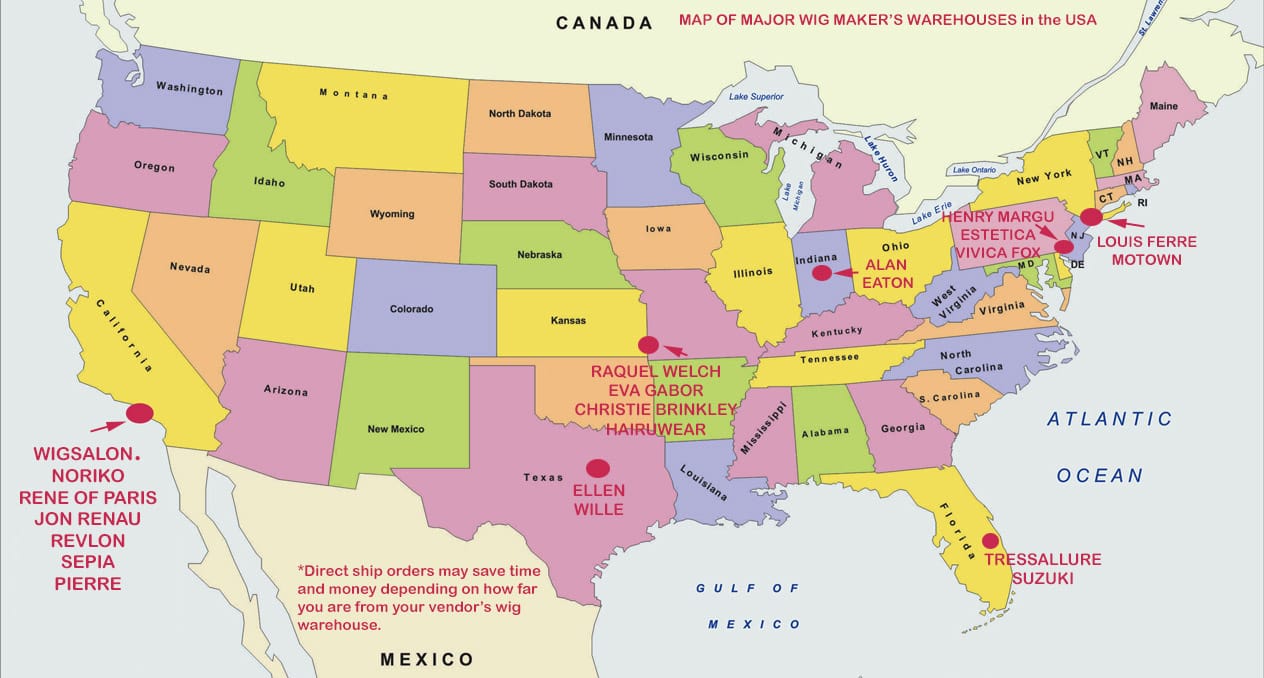 Domestic Shipping
We use USPS with tracking on most standard USA shipping orders. Priority Mail typically arrives 2-3 days after it is shipped and the post office will still usually deliver on Saturdays. Priority mail packages leave our salon in one to three business days after order, varying on the wig maker's distance to Los Angeles. Due to our proximity to the major wig warehouses, no one can promise you faster delivery on wigs than WigSalon.
Special Requests: Feel free to email us before or directly after you order to request any special shipping arrangements that you might need or want. You can also email us a few days after you order and we will track the status of the order for you. Email to [email protected] - Subject: Track My Order - YOUR LAST NAME.
Confirmation of Delivery: Delivery is assumed and designated by both parties to be complete when confirmed as delivered by UPS or USPS and their tracking system. Large orders may be sent :signature required" at our discretion and expense,
Third Party or Alternate Shipping Addresses: WigSalon.com prefers to ship to the address that the card-bank has on file for you, but we realize that sometimes this can not be done or is not convenient. We will attempt to verify the authenticity of your order, and once this is done we can ship it to wherever you like.
Refused Parcel or Wrong Address: If an order is refused, it gets treated as a client return as long as it gets back to us okay. You have the option of asking us to re-ship it or we can treat the wig as a returned wig. The same is true if the address you gave us was incorrect and the package was returned to us.
International Orders & Shipping
For most overseas orders we use Global Priority or USPS Express Mail International (EMI). We reserve the right to upgrade your package to Express Mail International if your order is over $200 or for improved reliability. Express Mail includes tracking and some basic insurance. Since postal rates vary with gas prices and other factors, the overseas rates we display on our site are approximate and may not be precise for overseas orders.
You should be aware of your own country's customs policies. WigSalon is not responsible for any customs charges, though we try to minimize them by invoicing at raw costs.
Canadian orders: Where the order is under $100, and we have a good relationship with the carriers in your province we use Priority Mail which is a great value. However, when orders are large, or if we believe there may be enroute delays in your province, we upgrade to EMI and bill for that upgrade.
Foreign Address and Address Verification: Many foreign banks will not verify the address of their clients. And sometimes domestic clients need things shipped to addresses that are new or not known to their card/bank. Whatever the case, if you are a new client, with an address that can not be verified by your card/bank, we may ask that you verify your identity as the cardholder. We will reach out by email or phone. Once you are verified, future orders on the same credit card will not require this process.
Rush Orders
Rush Orders: Rush orders are processed on the same or next business day, depending on what time of day your order comes in, and the particulars of the business day. Most Rush Orders are drop shipped by the wig maker to your home via UPS. Refer to the map to judge how long the rush delivery should take. Actual ETA depends on where you live in relationship to where the wig maker is. So please factor that into your expectations, and remember that if you need a wig for true overnight, like the very next day, or within 2 days, you should contact us to make us aware of your needs. We will strive to accommodate. Overnight and Rush Orders do not usually include weekends. UPS does not deliver on weekends un;ess specified.
Rush Orders are per vendor: If your RUSH order contains items from more than one wig brand, we will typically rush one brand for you. The other item(s) will come standard in about a week. The logic is that this keeps you covered until the rest of your order arrives. However, we do realize than sometimes you may need all your wigs quickly (say in the case that you are travelling). If you order RUSH from more than one wig maker, and need the entire order in less than a week, please call or email us. If you email us, include your phone number. We can accommodate. We just need to know what your situation is.